History of Acaster Malbis Memorial Hall
The Memorial Hall (or Institute as it is officially called) was opened in 1927 as a memorial "To the men of the Acaster Malbis who served in the Great War 1914-1918", and 6 of whom died in the what is now referred to as the First World War. It was originally going to be called the Edward Gibbs Memorial Hall, in memory of the Reverend Edward Gibbs who was the minister of Holy Trinity church and chaplain to the Archbishop of York; he died in France on Good Friday 1918. However, the decision was taken that it should be a memorial not only to those who died but for all those who served their country, and that it should serve future generations of Acaster residents. There is a plaque inside recording the names of all those who served and the building is now registered as a war memorial.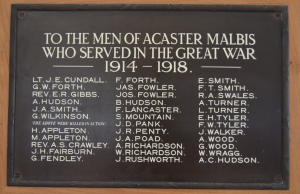 The proposal to build the hall was agreed in 1920, but for various reasons, it was 1927 before it actually opened. Numerous fund-raising events were held, whist drives being particularly popular, but much of the money was raised by donations. The names of donors are recorded on concrete plaques set into the front wall of the building; small plaques cost £5, large ones £10 – a lot of money in the 1920s.
The hall was a simple building, with a single large room and small kitchen. It was heated by stoves until the late 1960s! While various works were carried out over the years, such as a new floor, an extension for storage and the addition of a car park, it was not until the early 2000s that the hall took on its present form. The millennium was used as an opportunity to raise money towards the modernisation and extension of the hall. The whole community supported a wide range of events, from a carnival to a book recording the history of the village.
The hall has served the community of Acaster Malbis very well over its 96 years and today is a popular venue for a variety of events, from yoga classes to parties, public meetings or elections.
SOUTH AINSTY ARCHAEOLOGICAL SOCIETY
The Society now has its own website: www.southainstyvillages.org.
As well as information about the Society's activities – both past and present – the website also includes the Ainsty Villages Archive. The Archive consists of hundreds of pictures of the South Ainsty villages (Acaster Malbis, Acaster Selby, Appleton Roebuck, Bolton Percy, Colton and Copmanthorpe) over the last 130 years. If you can help us, by identifying people or places, or with memories, or with new images, we'd love to hear from you. You can either use the online form or email us at: info@southainstyvillages.org.